Armor has a full complement of machine tools to provide you with quality machined parts to meet your specifications. We can produce parts from prototype to production quantities. From start to finish, trust us with making your bottom line more profitable and efficient. We work directly with your engineers to produce cost effective machined parts.
We have the ability to produce high quality complex parts with our CNC Lathe with Live Tooling. This added feature gives Armor the ability to perform milling, drilling and boring operations without adding additional setup time to produce your parts. The result is high accuracy at lower cost with faster turnaround.
Additionally, we have two Doosan DNM 400 Vertical Milling Centers capable of continuous features up to 25 inches.
With our Wire EDM we can cut complex shapes into hardened materials holding tight tolerances and with Sinker EDM Machines we can burn custom pockets into work pieces conventional machine centers cannot.
We have two high speed sign engraving machines capable of creating durable industrial signs and labels for harsh work environments out of Phenolic Plastic, Acrylic, Aluminum, and other materials.
At Armor, rush orders are our specialty. Please call or email for pricing on all your machining needs.
---
Lynx 300/300M
High Performance Turning Center
The Lynx 300 turniing centers are designed for long-term high accuracy and superior surface finishes. High-speed turret indexing and ultra fast rapid traverse rates minimize non-cutting time. The Linx 300M mill-drill capacity reduces the need for secondary maching on other machines, helping to eliminate additional machind set-ups and handling costs. Classic manufacturing methods an rigid construction are combined with advanced technilogical features to provide exceptional value.
Features
Powerful (15kW) 20HP high torque spindle drive
Large (76mm) 3" bar capacity
Part catcher
High speed 3,500 RPM spindle
Heavy duty turret with (210mm) 8.26" Curvic coupling
Separate collant tank
Fast 0.15 second turret indexing
one-piece Meehanite cast iron slant bed
Pretensioned X and Z axis ball screw
Fast (30m/min 1.181 IPM rapid traverse
Large (450mm) 17.7" maximum turning diameter
(4.5 bar) 65 PSI coolant pump
Metered pistom distributor lubrication
Way lube separation system
Electric torque limiters
Fanuc Manual Guide 0i Programming Assist Finction
Tool setter
Milling Features (Lynx 300M only)
Rapid tapping (main spindle and rorary tools
Compact design requires minimal floor space
Milling, drilling and tapping capabilities
Full contouring C-axis
Ridgid mounted tooling (BMT) system
(5.5kW) 7.5 Hp rotating ool spindle motor
Fast 5,000 RPM rotating tool speed
3 rotating tool holders included as standard
DMN 400
High Precision, Heavy Duty Vertical Machining Center
Though designed for high-speed machining, the DNM 400 is equipped with a powerful spindle motor providing superior performance in any type of manufacturing environment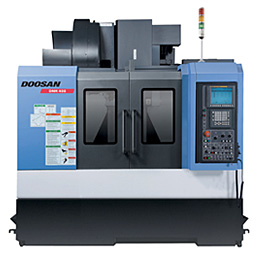 Features
Fanuc Oi-MD Control
8,000 or 12.000 RPM spindle
Oil jacket spindle chiller
Powerful 9/15 kW (20hp) spindle motor
10.4" Color LCD display
Cartridge spindle design
Air thru spindle
Big plus spindle System
High precision spindle with four angular contact bearings
Spindle orientation
Spindle speed override 50 – 150%
Rigid tapping
Custom Macro B (User Definable)
Cam Type Double Arm ATC 30 Tools
Portable Manual pulse generator
Oil Skimmer
Massive One-piece Meehanite cast iron bed
Large Linear Guides (Y, Z 45mm / X 35mm)
Servo motors mounted directly to the Oversized ball screws (X Y and Z, 40mm)
Double Pre-tensioned ball screws
AI APC (Mold / Die Software / 15 block Look Ahead)
Fast 36m (1,417 IPM) Rapid Traverse rate
Metered piston distributor lubrication
Telescopic covers
Screw conveyors on both troughs for chip disposal
Full enclosed splash guard
Flood coolant with large separate coolant tank
Work light
3 color tower signal light